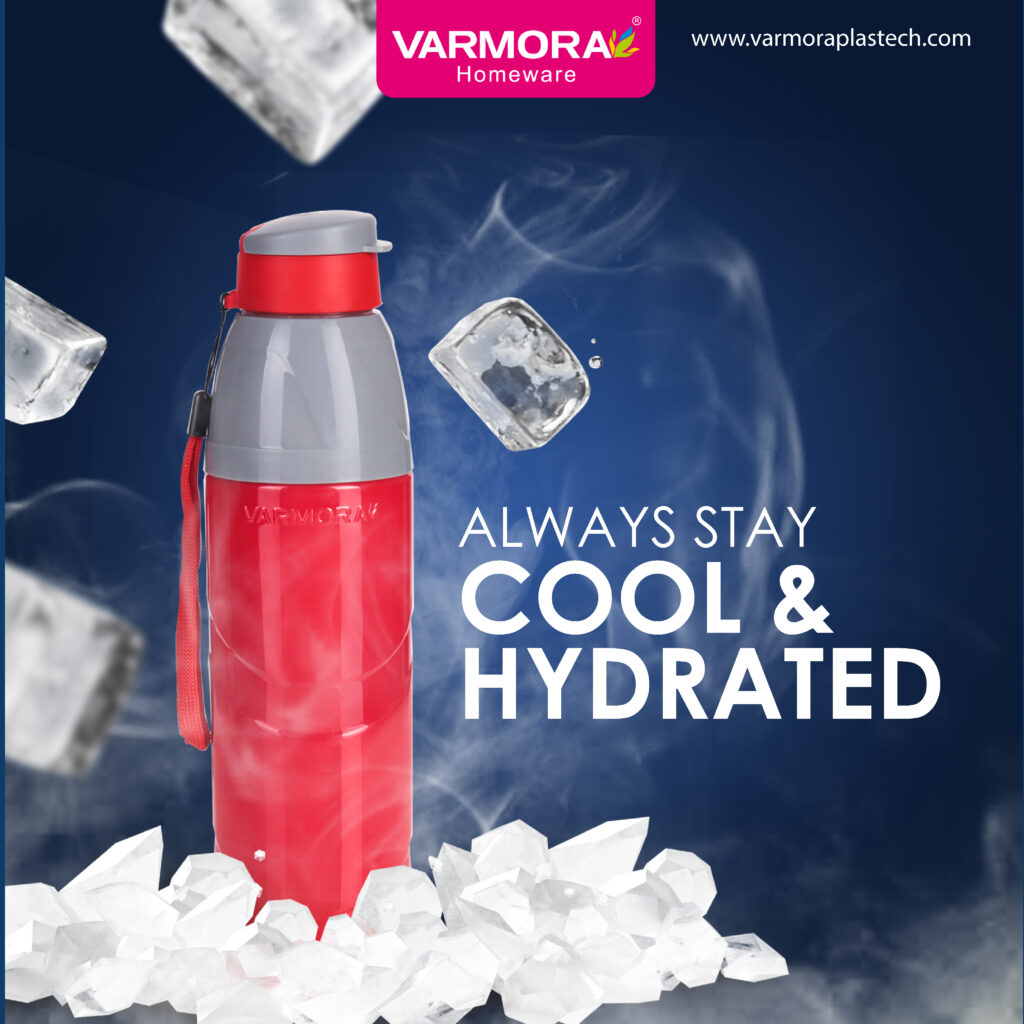 Summer is just around the corner and staying hydrated is essential to maintain good health and wellbeing. With rising temperatures and scorching heat, it is important to drink enough water to prevent dehydration and associated health problems. And Varmora's newly launched range of water bottles offer a perfect combination of functionality, durability, eco-friendliness and compact design allowing you to take your hydration partner with you wherever you go. 
Varmora, a leading brand in the manufacturing of kitchenware and homeware products, has recently launched a new range of water bottles as mentioned that cater to the needs of health-conscious individuals. The most significant USPs of these water bottles are that they are eco-friendly, FDA approved and BPA free, making them safe for everyday use. This means that you can confidently carry these bottles without worrying about harmful chemicals leaching into your water, thus ensuring your healthier lifestyle.
Varmora water bottles are made of high-quality plastic, making them durable and long-lasting. You can carry them with you anywhere, be it the gym, office, or travel, without the fear of them breaking or leaking. Additionally, they come in convenient sizes, striking colour options, and unique designs, making them attractive and easy-to-carry around.
Apart from the safety aspect, Varmora's water bottles come in a range of vibrant colours that make them both functional and stylish. You can choose from a variety of colours to match your personality and style, making them an ideal accessory for anyone who is always on the move.
Another great feature of Varmora's water bottles is that they are easy to carry and use with its compact design. The design allows easy accommodation in backpacks, well suited for hikes. It can also fit well in school and office bags and you may as well carry one to gym, making it more versatile and convenient. The bottles are also designed with a wide mouth for easy filling and cleaning, and the cap has a secure and leak-proof seal to prevent spills and leaks.
Staying hydrated is crucial for our health and wellbeing, especially during the summer months. Varmora's range of water bottles provides a safe, stylish, and convenient way to stay hydrated on the go. With its FDA approval, BPA-free composition, durability, range of colours and eco-friendliness, it is perfect for everyday use and to stay hydrated all summer long.
So, grab a Varmora water bottle today and stay hydrated wherever you go!